Hotel ILUNION Golf Badajoz' Reviews

9.0

Cleaning

8.9

Services

8.0

Location

9.3

Staff

8.9

Price
8.8
Excellent
Scoring based on real reviews written by our clients after their stay
Verified Reviews
Send review
Uk

Carpeted room that was a bit stuffy upon arrival (2am), but great receptionists and valu for money. Beware when you leave the motorway the hotel is away from town. But it was an easy drive in to see the sights and park centrally as advised by reception. We only stayed one night and found the room overlooking the pool clean and comfortable. All was very quiet. We ate in town.

España

Hotel muy bueno, las instalaciones muy amplias y limpias y la piscina muy grande. El servicio de comidas muy buenas . El personal del servicio Cori , Luisi y Juan Antonio excelentes y al chef k nos sorprendía todos los días. Me faltó una discoteca para bailar aunque un recepcionista se ofreció a llevarme a badajoz , recomiendo este hotel por la hospitalidad que recibí. Un saludo.

España

Hotel muy bueno, con piscina excelente, desayuno, comidas y cenas muy buenas,con un trato excepcional de Cori, luisi, Juan Antonio y el chef, habitaciones muy limpias y amplias, y un saludo a un recepcionista que se ofreció a llevarnos a Badajoz, recomiendo este hotel

España

Hotel muy bueno... amplio, luminoso, hab espectacular... detalle de cortesía botellita de agua, un detalle!! Encantada con el personal.

España

El personal es siempre de lo más agradable y el silencio que hay en la zona se agradece mucho.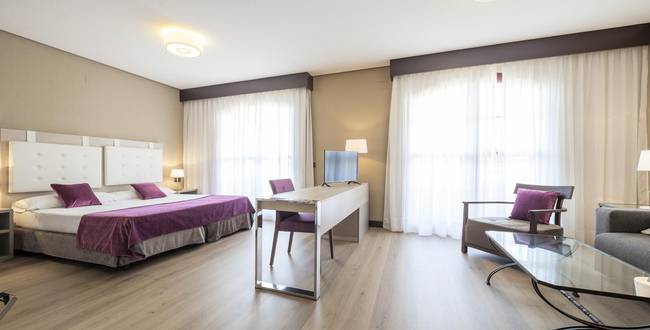 OPINIONS HOTEL GOLF BADAJOZ WITH SWIMMING POOL
Tell us about your experience at ILUNION Golf Badajoz and help us to improve our service. Your opinion of hotel ILUNION Golf Badajoz will help provide future guests with ideas when it comes to planning their holiday in Badajoz.